Reusable code snippets using Live Templates in PHPStorm
Let's just admit this. If you're a developer who works with PHP and you haven't heard about PHPStorm, you're assumed to be living in the rocks. Because PHPStorm is the best PHP IDE exist right now IMHO. The tagline on the homepage of it reads as "The lightening-smart IDE for PHP" and it's really true. It has got all the features you'd need in order to become a fluent PHP programmer.
I'm going to talk about one such feature of PHPStorm which I think is underutilized by developers. I'm talking about Live Templates. Often time comes, when you'd want some small bits of called which you need on a frequent basis while working on your project. I call them snippets. Well, live templates is the exact same feature which would fulfil this need. Let's talk about it in detail.
Live Templates
Live templates are small code snippets which can be accessed by typing the corresponding template abbreviation and press Tab. Keep pressing Tab to jump from one variable in the template to the next one. Press Shift+Tab to move to the previous variable.
In order to create a live template, for instance, if I want to create a error log snippet for Magento 2 I will first need to…
Navigate to File > Settings/Preferences > Live Templates.

Select the template group where you want to create a new live template (for example, PHP). If you do not select a template group, the live template is added to the user group.

Click Add The Add icon on the toolbar. A new template item is added and selected.
| Field | Description | Example value |
| --- | --- | --- |
| Abbreviation | Specify the characters to expand the template | erl |
| Description | Specify an optional description to identify what the template is for | Error log for Magento2 |
| Template text | Specify the body of the template with variables | Code snippet that you want to use. |
In my case, I'm going to use following snippet,
$objectManager

 

=

 

\

Magento\Framework\App\ObjectManager

::

getInstance

();




$logger

 

=

 

$objectManager

->

get

(

'\Psr\Log\LoggerInterface'

);




$logger

->

info

(

'Log: '

 

.

 

print_r

(

$log

$

,

 

true

));



The template would look something like below.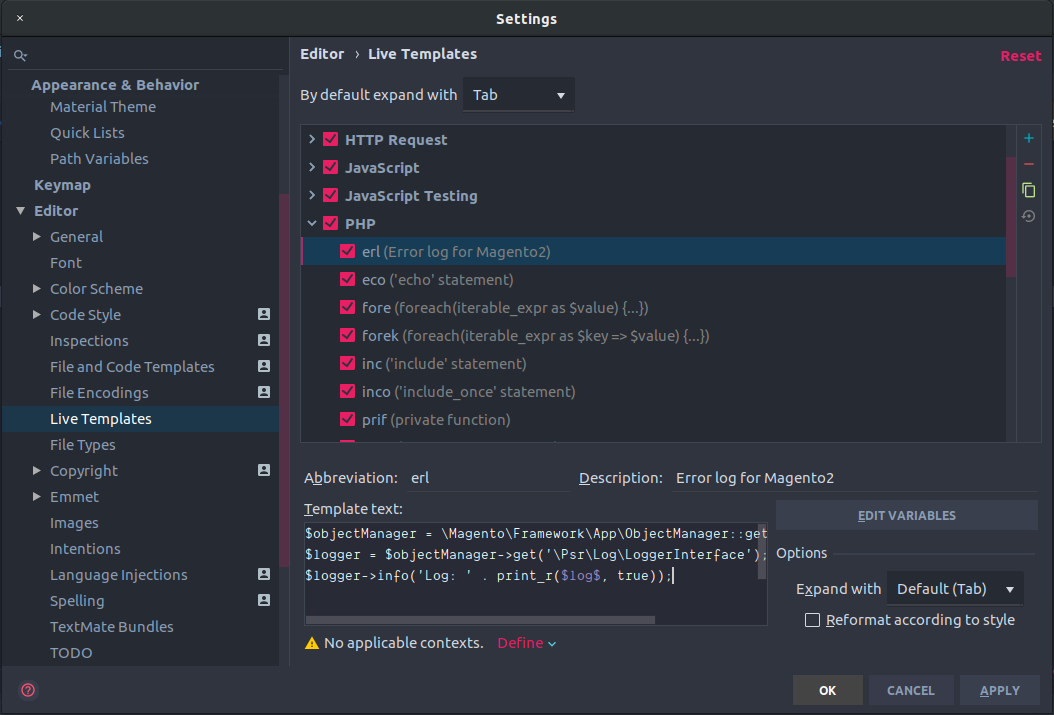 Click Define at the bottom to select the applicable contexts (for example, JavaScript if it should apply to PHP source files).

Click Edit Variables. In order to keep the value of $log$ empty, I'll leave the Default value field empty and click OK.
And now, whenever I type erl and press Tab, the above code snippet template will appear with the cursor set at the $log$ as an empty space.
If you want to reuse the same template in multiple groups, or you want to create a new template based on another one, you can duplicate an existing template.
Previous: Codelobster IDE - A free PHP, HTML, CSS, JavaScript editor (Sponsor)
Next: Conditional attributes and relationships in Laravel Resources
Beep! Beep! I'm also running a YouTube channel which I hope you're going to love!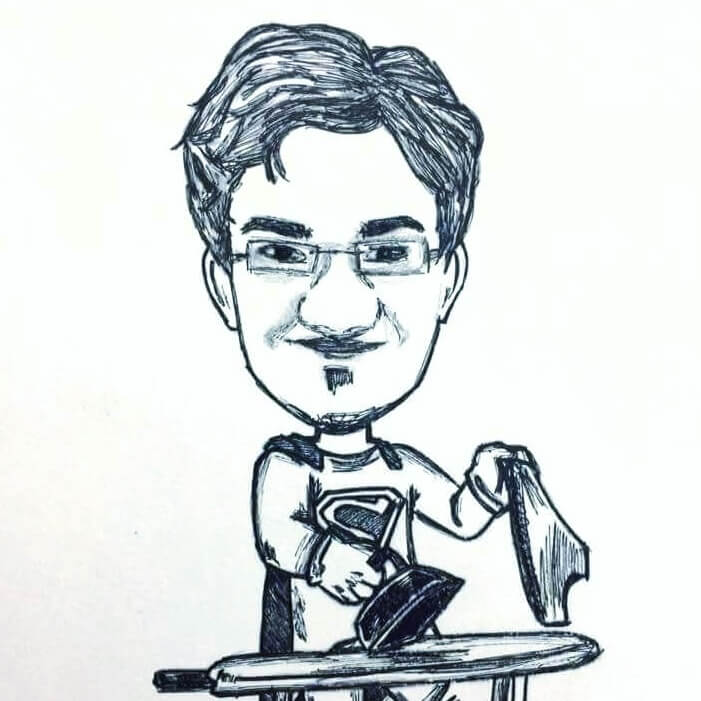 👋 Hi there! I'm Amit. I write articles about all things web development. If you like what I do and want me to continue doing the same, I'd like you consider leaving a tip. I'd highly appreciate that. Cheers!
Comments?